By Sabrina Schoch and Reba Ouimet
At last year's Victorian Studies Association of Western Canada conference, we interviewed Dr. Robert O'Kell, one of VSAWC's founding members. Dr. O'Kell spoke with us about the origins of VSAWC, the ways in which the association has changed over the years, and the organization's interdisciplinary function. The Victorian Review has been affiliated with VSAWC for several years, and the two organizations have often collaborated. Since VSAWC was first founded, in 1972, the association has brought Victorian studies scholars from Western Canada closer together, allowing them to share research and determine scholarly conventions.
Dr. Robert O'Kell and his colleagues formed VSAWC in order to meet "a need felt by scholars far and wide to get together" to share Victorian studies scholarship. At that point in the 1970s, there was significant difficulty in Victorian scholars' ability to discus their research with academics in distant locations. There was a strong need for a central location to host a convention where scholars could share interdisciplinary research. At the first VSAWC meeting, in Edmonton in 1972, "55 or 60 of the 75 delegates were men," but the association has shifted over the years and is now comprised primarily of women. In the early days of VSAWC, there were often two keynote speakers at each conference; usually, one represented literature and one history. Until the early 2000s, the conference tended towards literary criticism; Dr. O'Kell applauds the association's recent attempts to balance literature and history.  Currently, there is a single conference held annually, typically with only one keynote speaker. The 2014 VSAWC convention was held in Banff, Alberta, on 26-27 April, and the keynote speaker was Dr. Aileen Fyfe, who presented on the communities behind Victorian scientific journals.
Dr. O'Kell concluded the interview with reflections on how technology has changed the ways in which we build scholarly communities in Canada: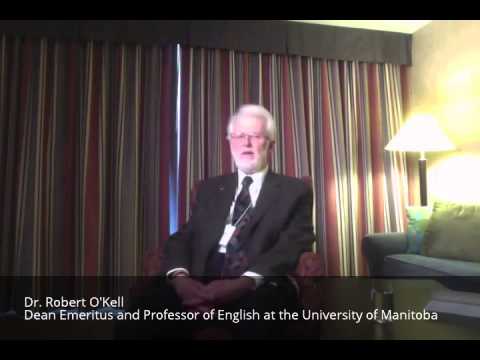 Robert O'Kell
Professor Robert O'Kell is Dean Emeritus of the Faculty of Arts at the University of Manitoba. He holds a PhD in English, an MA ,and a Certificate of Victorian Studies from Indiana University, and he earned an honours BA from Carleton University. His interests include Victorian and Romantic literature, the history of the novel, and nineteenth-century politics. He is the author of Disraeli: The Romance of Politics and a founding member of VSAWC.